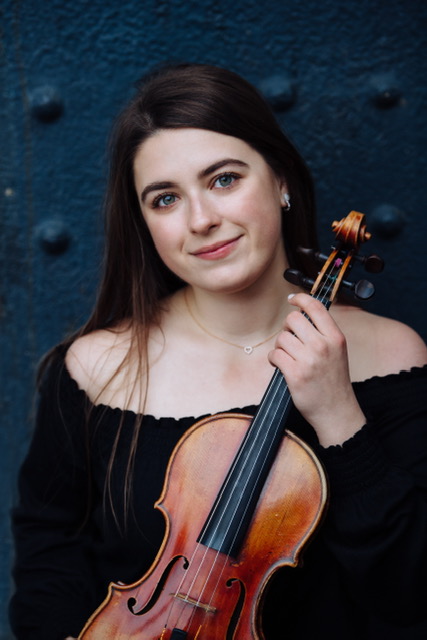 Turkish-American violinist, Zeynep Alpan, started studying the violin at the age of 5 as part of her music therapy treatment for her diagnosis of speech delay and Auditory Processing Disorder. Immediately after being introduced to the violin, Zeynep began to speak and following a year and a half of violin studies, she had her first solo appearance with Vivaldi's A minor Violin Concerto, after winning the Peabody Concerto Competition.
As a soloist, chamber, and orchestral musician, Zeynep has appeared in a myriad of venues such as Carnegie Hall, Royal Albert Hall, and the Kennedy Center Concert Hall. She has performed as a soloist with orchestras such as the Istanbul State Symphony Orchestra, the National Philharmonic, the Aspen Music Festival and School and the Juilliard Orchestra. She has also performed as a soloist at the Turkish American Women Leadership Event on Capitol Hill as well as at the Focus Festival: On the Air! at Lincoln Center. As a producer, Zeynep has produced a multitude of events including performances, workshops and lectures. In 2019, Zeynep co-founded a non-profit production center, Artemp, INC. Under this non-profit organization, she founded the Turkish-American Cultural Laboratory (TACL). TACL is targeted towards the cultural integration of the Turkish and American cultures through the contemporary arts with three main components: Education, Performance, and Innovation. Through a series of educational programs (including an Academy at Bilkent University in August 2020), various performances, cultural events and a label producing newly commissioned contemporary works, TACL has established a platform for the next generation of artists that will mutually benefit both countries and enrich their communities. TACL is proud to be sponsored by Turkish Airlines.
With a passion for teaching, Zeynep is also a New York Philharmonic Teaching Artist and a Morse Teaching Artist partnering with New York City Schools. She also is a teacher and leads the string ensemble at the Nord Anglia International School New York, is a teacher and mentor at the Music Advancement Program at the Juilliard School, and is on faculty at Lincoln Center's Audition Boot Camp.
Community outreach and service is an integral part in Zeynep's musical life. In 2013, Zeynep co-founded the group Sonatas Stopping Starvation where she organized and ran food drives, benefit concerts and has partnered with food banks all over New York. Zeynep was also awarded the Gluck Community Service Fellowship where she played in various health care facilities in New York.
Zeynep is the first prize winner in many competitions, some of which include the Juilliard Concerto Competition, the Dorothy DeLay Competition and the National Philharmonic Competition. Zeynep has been awarded the Ataturk Youth Achievement Award by the Ataturk Society of America and she received the Juilliard Entrepreneurship Grant. Since 2017, Zeynep has been a violinist of The Montclair Orchestra. Zeynep is a graduate of the Juilliard School under the Ahmet Ertegun Scholarship (B.M. '17, M.M. '19) and will be pursuing her Doctor of Musical Arts at Stony Brook University.